Almond Butter
Natural Almond Butter with rich, nutty and solid taste. Nutritious and digestible obtained by grinding oven-roasted whole grain Almonds with their skin. Full bodied with coarse-grained texture.
KEY BENEFITS
Source of Very Digestible Plant Proteins
Rich in Arginine, Amino Acid with Beneficial Effects on Cardiovascular System
Whole grain Almond Content of 99.9%
High Source of Fiber
High Quality Lipid Profile
Natural Antioxidants (Flavonoids, Rosemary Extract)
Source of Phytosterols
High Source of Vitamins (Vitamin Ε, Riboflavin) and Source of Folic Acid
High Source of Minerals (Calcium, Phosphorus, Magnesium, Copper, Potassium, Zinc, Manganese) and Source of Iron
Diabetes Superfood – Raw Material of Low Glycemic Index
Satisfying Feeling of Fullness
Salt Free
No Sugar added – Contains Naturally Occurring Low Sugar
Vegan Friendly – 100% Vegan
Read more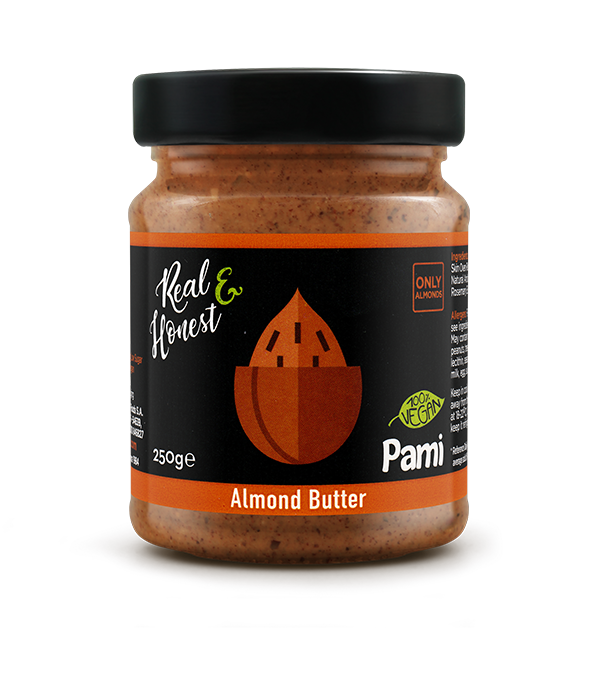 COMPOSITION
Almonds with Skin Oven-Roasted (99,9%), Natural Antioxidant Rosemary Extract.
* For the presence of Food Allergens, please consult the product label
PACKAGING
Glass Jar 250g
Product Code: 04631