High Protein Sesame Butter – Tahini
Sesame butter – Tahini with High Protein content of optimum quality. A product of high nutritional value, with rich taste and creamy texture, obtained by grinding roasted, selected hulled Sesame Seeds and enriched with Whey Proteins of high biological value.
KEY BENEFITS
High Source of Proteins of Excellent Digestibility & High Biological Value
22% more Protein Compared to Conventional Sesame Butter
Rich in Arginine, Amino Acid with Beneficial Effects on Cardiovascular System
Rich in Essential Amino Acids, necessary for Structural & Muscle Development (Valine, Leucine, Isoleucine)
Hulled Sesame Seeds for Better Absorption of Minerals Compared to Whole grain Sesame Butter
High Source of Prebiotics and other Fibers
High Quality Lipid Profile
Natural Antioxidants (Carnosol, Rosemary Extract, Lignans: Sesamin, Sesamolin)
Preservation of the Bioactive Compounds of Sesame Seeds
High Source of Vitamins (Folic Acid, Thiamin)
High Source of Minerals (Selenium, Magnesium, Zinc, Phosphorus, Copper, Manganese) and Source of Potassium & Iron
Natural Sweetener with Low Glycemic Index (GI ~ 15)
Low in Sodium/Salt
Vegetarian Friendly
Read more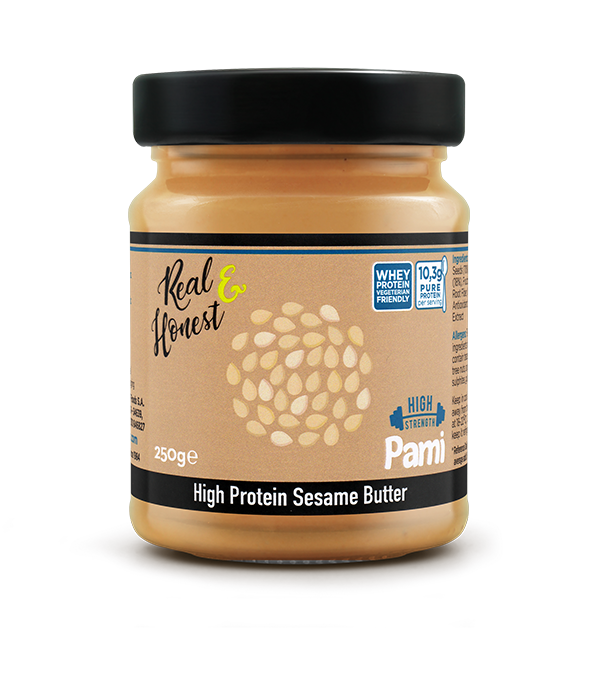 COMPOSITION
Hulled Sesame Seeds roasted (70%), Whey Protein, Fructose, Chicory Root Fiber, Vanillin and Natural Antioxidant Rosemary Extract.
* For the presence of Food Allergens, please consult the product label
PACKAGING
Glass Jar 250g
Product Code: 91531